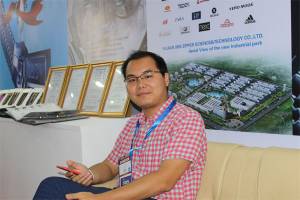 Hello & Nice Day! Receive warmest greetings. I would like to inform you that SBS Zipper is the No#1 Zipper brand company of China & the 2nd Largest Zipper Manufacturer of the World has set-up a Liaison Office at Banani, Dhaka, Bangladesh Since September, 2013. Since more than 15 years SBS Zipper is serving Bangladeshi clients with best quality products, better product leading time with a very attractive price. SBS has the entire international certificate to maintain all the requirements of environment friendly production. SBS Zipper is called 'Zipper Specialist' in the Zipper world to have the ability to produce any kinds of zippers.
So, I think it's the true time to choose SBS Zipper as your zipper vendor & compare to other company by Quality, Price & Service. I wish you'll give us a chance so that we can provide you the Price idea, Catalog, SBS Color Code Book, some Samples etc or even we can visit you any.
We have a very dynamic & energetic team to serve you always.
Thanks!
Lucas Xu
Country Manager(Bangladesh)
Email:lucas@sbszipper.com